Chord Fingering Diagrams
ing an accordion to play Cajun music limits the key in which a song can be played. This is because the accordion can only play in certain keys. For example, the C accordion can play in the key of C or G, while the D accordion can play in the key of D or A. At jam sessions and on many recordings the C accordion is used most often. There are a couple of other keys available to an individual accordion, but the info above will do for this discussion. In addition, many older Cajun songs are played only with the fiddle and are in a variety of keys. When trying to figure out what key a song is in, it is helpful to know is that the tune always ends on the chord of the key. For example for a song in C, the last chord of the tune will be C.
Chord Diagrams for Common Keys in Cajun Music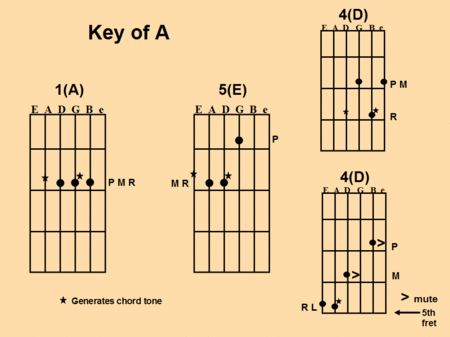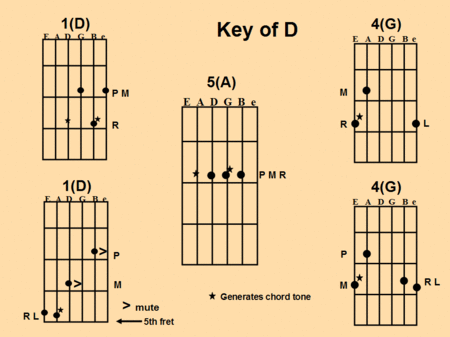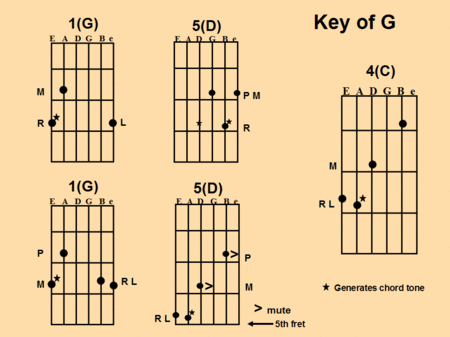 Finger Abbreviation Chart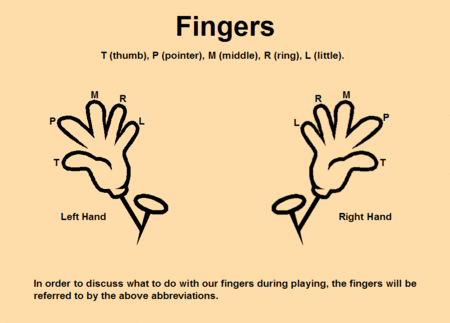 Most Cajun songs use only three chords, i.e. 1, 5, and 4 while, many songs use only two chords, 1 and 5. (see Nashville numbering system).
For a beginner guitarist this is great because, we only need to learn the chords in the keys of C and G to be able to play along with many songs. Thus, we only need to learn four chords i.e., C(1), G(5), and F(4) for the key of C and G(1), D(5), and C(4) for the key of G. For Cajun music, these are all major chords, i.e. no minor chords.
To play with a D accordion, one must learn the 1, 5, and 4 chords in the keys of D and A. They are D(1), A(5), and G(4) for the key of D and A(1), E(5), and D(4) for the key of A. Again, these are all major chords.
There is very little use of minor or 7th chords in Cajun music. Although there are some minor Cajun songs, they usually are found in either old ballads or songs from modern Cajun songwriters. There is also a more use of minor and 7th cords in Creole and Zydeco music.
Both open and Barre chords can be used to play Cajun music. There are various ways to form Barre chords.
To see the fingering of open chords used in Cajun music for the keys of C, G, D, and A, see the charts above. Note that the C-chord is a four-finger chord that is not the standard, three-finger C-chord. The four-finger C-chord has the advantage of being able to use the low E string during the bass downbeat, which gives a louder, more percussive sound (more on this later). There are two possible finger formations for the G-chord and D-chord; three-finger and four-finger. The four-finger chords give a more muffled, "chunk" sound on the back beats (more on this later).
---