Midsummer Night Swing 2001
Midsummer Nights Swing is a dance series at Lincoln Center in NYC. The series blends the social dance and great music in a great downtown venue to make one of the country's hottest outdoor dance party. Midsummer Night Swing brings in enthusiastic crowds of all ages- beginners to experts- to move their feet to a host of rhythms provided by the world's leading dance bands and top-drawer artists. From swing to salsa, dance instructors are on hand to teach a few smoothe moves, while many people come by just to listen to the infectious beats. The events run weeknights and weekends through June and July every Summer with many genres represented.
There is one night for Cajun and Zydeco and in 2001 the bands were Charivari and Nathan and the Zydeco Cha-Cha's. I usually am only lucky enough to see Charivari at Randol's in Lafayette on Wednesday nights (photo). Having this really hot Cajun band in town was a real treat. Their style of music is energetic and syncopated, fiddle and accodion, and all in Cajun French. They were revved up for the NY crowd, playing tight and fast, and were just plain on. An added treat was Micheal Doucet (of Beausoleil fame) coming in mid-set to play fiddle. Charivari's regular fiddle player Mitch Reed (son of Bob Reed) is great on his own, but having two great fiddlers on stage made for some magic music. If you are ever lucky enough to have Charivari in your area, make the effort to see them. Another great bet is to get a copy of their latest CD I Want to Dance with You available from Rounder Records (can be ordered online or at you local CD store).
Nathan Williams of Nathan and the Zydeco Cha-Cha's is a true warrior of the zydeco world. He has played on the road since the 80s and has introduced thousands to Zydeco. He has done this playing a fairly traditional style zydeco that gets the crowds dancing both on the road and at the homebase in Lafayette at the world famous El Sido's Famous Zydeco and Blues Hall. The band mainly sticks to originals - Nathan Williams is undoubtably one of the most creative songwriters. This creativity shines strongly in their last release Let's Go from which the band played many numbers that night. One big surprise for the evening was that Nathan's young son fronted the band for two songs (musical dynasties are a tradition in Louisiana). If you want to read more about the concert, I recommend that you check out the review on ZydecoRoad.com.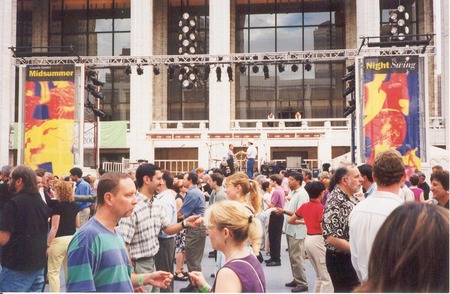 It was great to see such a big crowd out for Cajun and Zydeco.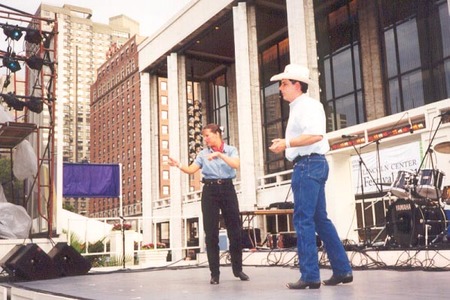 Quick-quick-slow, quick-quick-slow..
Teaching at Midsummer Nights Swing was a great thrill. Standing in front of hundreds of dancers spread across the dance floor at Lincoln Center was intimidating at first, but once the lesson started it was just like teaching at a smaller venue like back at Catonsville near Baltimore. There was even a TV camera taping a segment for an episode of Regis and Kelly. A couple in the crowd has won a dream date to NYC to go to dinner and dancing. It just so happened that it was Cajun/Zydeco night. The next day a friend told us that she heard a familiar "Quick-quick-slow, quick-quick-slow..." and turned to see us on national television. We never saw the show ourselves, so if you know a way to get a tape, please email me (we contacted the network, and they have policy not to provide tapes). Also, Laura and I want to thank the volunteers that helped us teach. Thanks goes out to Joan, Arn, Carol, Todd, Pat, Jeremy, Helen and Tom - their pictures are below.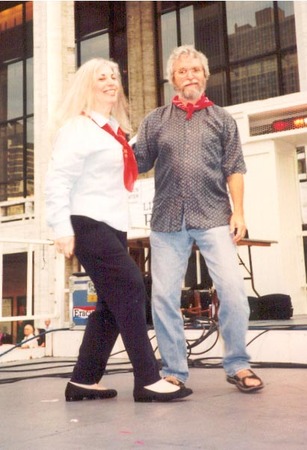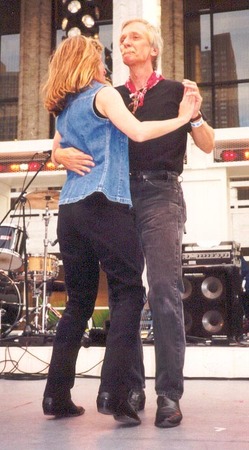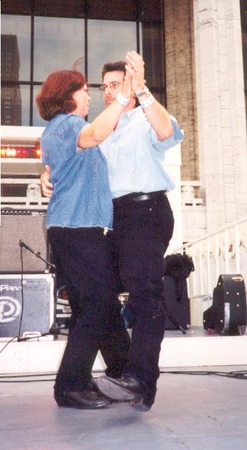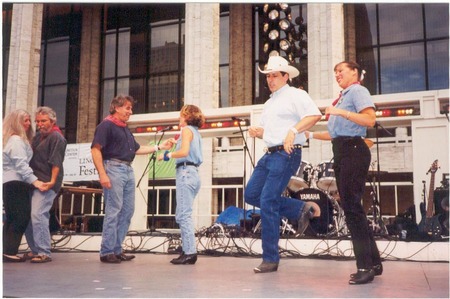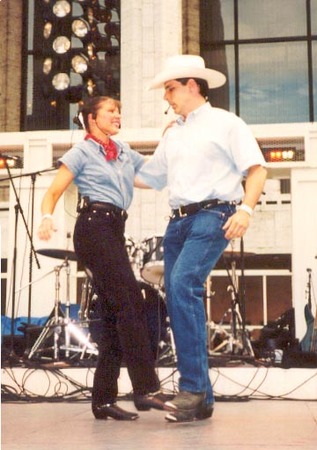 ---